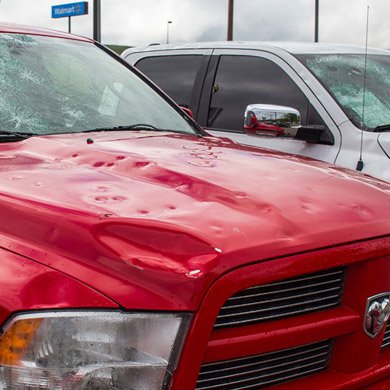 Your wallet is taking a lot of dings and dents lately and a minor dent in your car or truck should not add an additional unwelcome dent. The advanced techniques and technologies utilized by Dent Resource LLC coupled with our impeccable service is aimed at reducing the dent in your wallet. State of the art Paintless Dent Removal (PDR) can repair many types of minor dent damage, including hail and door dings. This technique eliminates the need to resort to the expensive traditional auto body repair methods such as: sanding, body fillers and painting. Our other reliable services include:
Complete hail repair services including the situations where PDR is not an option and we work with body shops to complete jobs in need of paint and specific body parts, including molding replacement, which is sometimes needed with hail damage to restore your car to its prior value.
Hail estimates can be completed at your office, home, or location of your choice.
Hail claims are hard enough, therefore, we offer claim assistance up to a $500-dollar deductible savings for our hail damage customers.
Rental assistance or reimbursement
Lifetime warranty on PDR.
Auto lease return dent removal. Returning a lease with a dent or more will cost money. We can remove these cheaper than the cost you will incur via the leasing company.
Pick-up and delivery services for all North Dallas Dent customers.
Door dings and larger non-collision dents without paint damage.
We offer 3M Products – 3M clear coat protection, 3M auto window tint – check out our Tint Site for more information
Body shop and Dealership hail accounts – call for current special offer
If you do not see the service your needing listed, please call us and ask. If we cannot help you, we will find someone who can. Contact us today and let us help you get your vehicle back to its original condition.