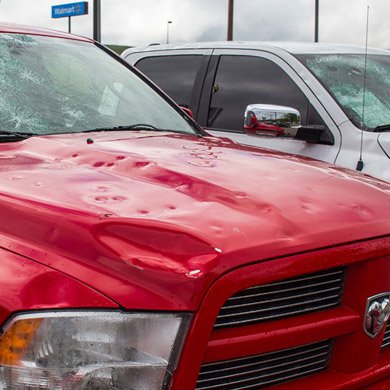 PAINTLESS DENT REPAIR DALLAS
Hail storms can cause extensive damage to your car or truck. Dent Resource LLC's certified technicians and paintless dent repair professionals, in Dallas, can remove dents and dings. Our state of the art process is known as paintless dent repair (PDR). The procedure of paintless dent removal is where hail damage repairs are performed without the use of sanding, bondo, or paint. Dent Resource LLC offers affordable prices on professional work.
Dent Resource LLC is a paintless dent repair company focused on providing exceptional service by working with all insurance companies, including filing claims and help setting up rental cars for all customers who bring in hail damaged cars. Cars in vital need of paintless dent repair & removal. Hail damage repair, by way of paintless dent repair, is a fine art requiring special instruments. Instruments used by a trained and experienced professional to remove dents and dings as the result of hail. Hail is pellets of frozen rain falling from cumulonimbus clouds in the sky ranging from small to very large. These irregular lumps of ice are referred to as hailstones and cause a large amount of property damage including automobiles. Car hail damage is covered under most car insurance policies.
Maintaining the original finish is the goal of paintless dent repair. Door dings can be removed to make your vehicle look like new again. Other types of damage including minor body creases and small bumper indentations can be removed with PDR dent repair in most cases. Paintless dent removal is an accepted procedure by the insurance industry. The repair process will remove hail damage, dents, and dings permanently without using bondo and paint. The avoidance of body fillers and replacement panels allows the vehicle to maintain its original paint and value. Our Hail Dent Removal in Dallas is performed with specialized tools that actually massage out the dents thereby restoring the original condition. The shop specializes in working with insurance companies hail damage claims with attention to detail and amazing customer service.
Bring your hail damaged car or truck to Dent Resource LLC, to our Allen location, along with the estimate from your insurance company, conveniently located north of Dallas. If an appraisal has not been performed by your insurance company, still bring in your vehicle. We can coordinate with your insurance to have it completed at our facility. Each car is washed and dried before we scope it under the specialized PDR lights. We review the initial estimate and blueprint dents, dings, and any other damaged areas such as mirrors, lights, panels, or glass.
To get a free estimate or start a repair, contact us by calling or completing our easy online form. One of our exceptional Dallas team members will get back to you quickly.