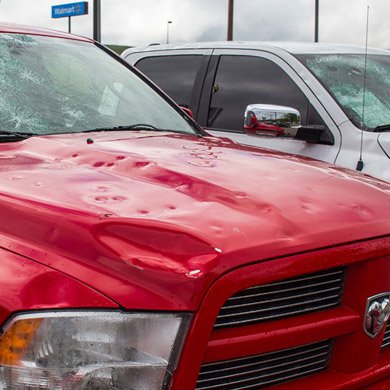 HAIL REPAIR DALLAS | AUTO HAIL REPAIR DALLAS
Hail repair Dallas Texas! Dallas has experienced a lot of hail storms. Dallas has had 33 reports of hail in the last 5 years. When you think of a storm, thunder, lightning, wind, and rain are the first thing that comes to mind. Hail is more of an afterthought until damages your vehicle. Hail damages more cars and trucks than wind or tornadoes. The majority of the damage is serious enough to require specialized service. If you live in Dallas and you are a victim of a hail storm, then Dent Resource LLC is available to provide the hail repair service you expect and deserve. Whether its hail or an accident that has damaged your vehicle, our qualified specialists are prepared to handle the problem.
Our specialists only use state of the art equipment and proven techniques, specializing in our paintless dent removal (PDR) procedure. Dent Resource LLC is confident that we satisfy your repair need. Our specialists offer quality service and are focused on providing exceptional customer service to all our clients. We offer quick turnaround times and reasonable prices, which has made us the trusted dent repair company in Dallas. Just a short drive north of Dallas, in Allen, you can drop off your vehicle for repair.
We will work directly with your insurance company from appraisal to the finished job. Your provider will require a vehicle appraisal in one of three ways: a claim drive, an in-field inspection (claims adjuster) or have you take it directly to a repair company like Dent Resource LLC. Once the vehicle is transported to our shop, one of our specialists will appraise the damage and deliver a thorough estimate of all work to be performed. Hail damage is easier to see if the car is cleaned and evaluated in a shaded area or an inside location. This will also make it easier for an accurate appraisal. We are on your side and we will help you every step of the way. Letting us handle the small stuff makes things much more convenient for you. We will negotiate directly with your insurance company removing all hassles and stress until the job is complete. After the insurance details, have been worked out, we can begin the repair process.
With so many vehicle repair shops available in Dallas, Texas, make no mistake, Dent Resource LLC is by far your go to company for all your hail repair needs. Contact us today, or stop by for a free estimate on your dent repair needs and put the care of your vehicle into the hands of our highly-trained specialists. You'll be glad you did!
To get a free estimate or start a repair, contact us by calling or completing our easy online form. One of our exceptional Dallas team members will get back to you quickly.