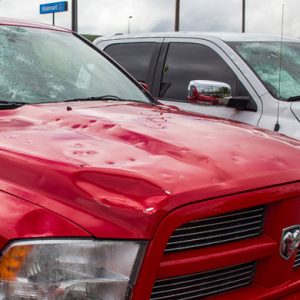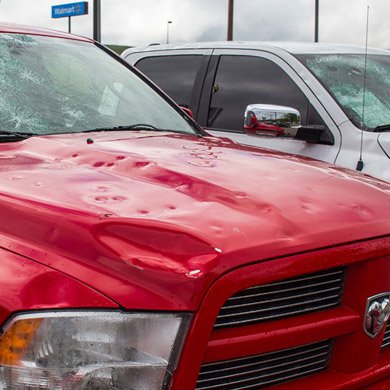 HAIL DAMAGE ALLEN | HAIL DAMAGE REPAIR ALLEN
If you live in Allen for any length of time, you know exactly what hail is. Hail is solid precipitation in the form of balls or pieces of ice commonly known as hailstones. Hailstones are formed in cumulonimbus clouds and are typically round. The diameter of a hailstone can range from a quarter to an inch or more, however most hailstones are smaller than a half inch. In thunderstorms, drops of water are continuously taken up and down though the cloud. The updraft within the storm cycles the hailstones until they are too heavy and overtake the updraft.
When the hailstones fall from the sky they impact anything and everything from roofs to vehicles, covering the Allen landscape in a sea of white. Vehicles exposed to the hail onslaught are damaged and in the need of repair. Sometimes, the hailstones are large enough cause severe damage. In some cases, hail can break windshields, as it pounds your vehicle relentlessly.
After you have contacted, or before, your insurance provider, bring your car or truck to Dent Resource LLC. We can walk you through every step of the hail damage repair process. We are the leading hail damage repair company in Allen. Located just south of Allen on Hwy 75. Using a variety of tools, techniques, and specialized training, our team will remove those dents caused by hail.
Dent Resource LLC has a full line of hail damage repair services including:
Dent Removal
Paintless Dent Repair (PDR)
Windshield Replacement
Windshield Crack Repair
During severe thunderstorms, your car or truck can suffer severe damage. If hail is involved, then this becomes very true. The body of your vehicle and exterior moldings take a severe beating and become severely dented. The hail can crack the paint and possibly shatter the windshield. At Dent Resource LLC, we are specialists in repairing damage caused by hail. Our processes are insurance approved and used by many in our industry, to get your vehicle's appearance back to its original condition before the hailstorm.
If your car or truck has been damaged by the recent hailstorms and you want it fixed by a hail damage expert, then look no further than Dent Resource LLC. We are your hail damage repair specialist! Call today!