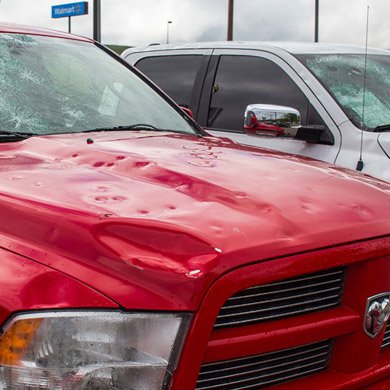 HAIL COMPANY RICHARDSON | HAIL SERVICE RICHARDSON
During the spring and long Texas summer, it's exciting to watch theatrical thunderstorms particularly in Richardson. The temperature changes from hot and insufferable to the coolness of the rain. The winds quickly shift direction, and the faint audible sound of thunder can be heard rumbling in the distance. The lightning dance begins jumping from cloud to cloud across the Richardson sky. If the storm reaches a specific level of severity, pieces of ice fall to the ground in the form of hail.
After the hail storm passes, Richardson residents and business owners make their outside to survey the damage and find hail covering outdoor surfaces. Most of the time, the hail has caused damage to vehicles if left uncovered or unprotected. Per the National Oceanic and Atmospheric Administration, hail causes over one billion dollars of damage in the United States each year.
If you notice hail damage on your car or truck, contact your insurance provider to start the claim process. Your provider will require you to locate a reputable hail repair company in or near Richardson. This is after they send out an appraiser or direct you to a storm center. The most reputable company in the area is Dent Resource LLC. You can count on us to be there for you every step of the process. Appraisers go where the vehicle is, thus bringing it to us right away will save you time. We will work with you and your insurance company to make sure your vehicle is returned to your pre-hail storm condition.
Dent Resource LLC specializes in repairing hail damaged vehicles, including cars and trucks. If your vehicle has been damaged by hail you can be certain that Dent Resource LLC possesses the experience and technology repair your vehicle right the first time. We are the leaders in Richardson in paintless dent repair and total auto reconditioning with the peace of mind that comes from:
Our full-service hail damage repair process from assessment to completion.
Highly trained technicians and their ongoing training on the latest innovative methods in vehicle hail damage repair.
Our service will help maintain your vehicle's value by removing the dents and dings that decrease the resale value of your vehicle.
Call or complete our online form and one of our Richardson specialists will contact you. Let us help you get your vehicle back to its original self.