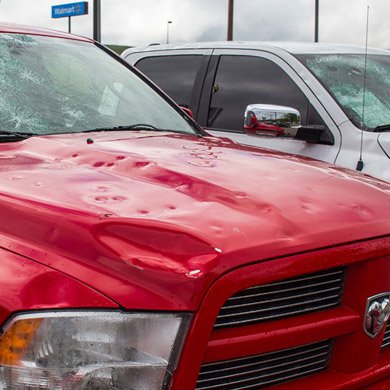 PAINTLESS DENT REPAIR GUNTER
You and your vehicle were caught out in one of the recent Texas hail storms. You were probably shocked when you first looked at your vehicle and saw the damage. Hail damage is visible but the number of dings can only be determined by a professional. Have you connected with your insurance provider and initiated the critical standard insurance claim process to make sure your repairs will be covered? If yes, then North Dallas Dent will schedule a time to begin your repairs and handle your claim going forward. If you have not connected with your insurance provider, then we can work with that situation too. We can assist by walking you through the claim process and communicating directly with your insurance provider. We are focused on reducing your stress not adding to it. Once your vehicle has arrived from your Gunter home or office to our Allen location, North Dallas Dent will begin the process of damage inspection and analysis. Our specialists carefully inspect the damage and determine if paintless dent repair (PDR) is your best alternative.
During the decision process, our team considers many factors whether to recommend paintless dent repair or not. The factors include the size and depth of the hail dents. Many standard vehicles have the flexible original factory paint, meaning minor dents can frequently be repaired without painting. The PDR system provides a flawless option for hail damage repair with little impact to the structural integrity of the vehicle.
How does paintless dent repair in Gunter work? Paintless dent repair comprises of the careful handling of the vehicle's minor dents and dings, without touching the paint. This procedure is often used when dealing with strikes on the outer panel or indentations that have not removed paint from the vehicle. Also, our professionals consider the location of the damage. Specifically, hood or door panel edge damage is most likely not a good candidate for paintless dent repair. North Dallas Dent will recommend the best alternative available for dents of every type.
Paintless dent repair in Gunter requires our professionals to gain access to the backside of the dent. Once accessed, we use specific tools intended clearly for the removal of dents. The practice provides a view of both sides of the dent allowing even pressure distribution, while manipulating the dent and restoring it back to its previous shape. Intermittently, the repair requires the use of fluorescent light boards to create shadows in the dent aiding in leveling of the affected area. After manipulation, including along the edges, the size of the dent will slowly shrink and eventually disappear.
North Dallas Dent uses only the latest technology and specialized tools for paintless dent repair, guaranteeing your vehicle is restored back to its pre-accident or hail storm condition. Whether you have a minor ding or a major dent, bring your vehicle to North Dallas Dent and we'll make everything right again. Call today and let our team of professionals put things back like they were before the Gunter hail storm.