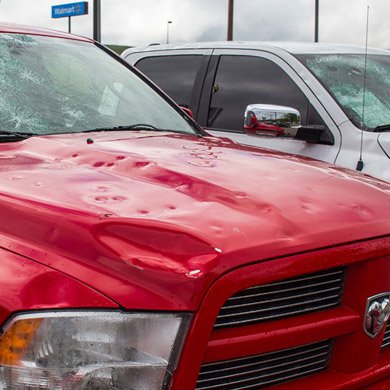 The weather in Texas is ruthless especially the long Texas summer. It's exhilarating to watch thunderstorms move in from the west in the direction of Anna. The hot to cool temperature change as a result of the incoming wind and rain. The winds quickly alter direction, and the faint sound of thunder can be heard vibrating in the distance. The lightning begins jumping from cloud to cloud across the Anna sky. However, if the storm reaches a high level of severity, pieces of ice fall to the ground in the form of hail.
After the storm subsides, Anna residents and business owners must make their way outside to examine the damage. Most of the time, exposed vehicles will have damage. Per the National Oceanic and Atmospheric Administration, hail causes over one billion dollars of damage in the United States each year.
If you notice hail damage on your car or truck, get in touch with your insurance provider to begin the claim process. Your provider will require you to locate a reputable hail repair company in or near Anna, which is after they send out an appraiser or direct you to a temporary storm center. The most trustworthy company in the area is Dent Resource LLC. You can trust us to be there for you every step of the way to guide you through the stressful insurance process. Appraisers will go where the vehicle is, therefore bringing it to us right away will save you time. We will work with you and your insurance company to make sure your vehicle is returned to your pre-hail storm condition. In the State of Texas, insurance companies must put you back to the condition you were before the storm.
Dent Resource LLC concentrates in repairing hail damaged vehicles, including cars and trucks. If your vehicle has been damaged by hail, you can be positive Dent Resource LLC possesses the experience and technology repair your vehicle right the first time. We are the leaders in Anna in paintless dent repair and total auto reconditioning with the peace of mind that comes from:
Our service will help maintain your vehicle's value by removing the dents and dings that decrease the resale value of your vehicle.
Our full-service hail damage repair process from assessment to completion.
Highly trained technicians and their ongoing training on the latest innovative methods in vehicle hail damage repair.
Call or complete our online form and one of our Anna specialists will contact you. Let us help you get your vehicle back to its original self.